As the coronavirus spreads around the globe, there are steps you can take to protect yourself and your family.
"I told my children that while I didn't think that they were at risk right now, we, as a family, need to be preparing for significant disruption of our lives," says Dr. Nancy Messonnier of the Centers for Disease Control and Prevention.
Here's what you need to know to make good decisions to plan, prepare and even prevent the spread of the disease.
1.This virus is contagious, but so far it's not as deadly as other outbreaks
In China, more than three-quarters of the cases have been classified as mild. Symptoms include low-grade fever and a cough. Some people also experience fatigue, headaches and, less frequently, diarrhea.
2. To fend off coronavirus, follow flu prevention tips
The top tip: Wash your hands. Why? Viruses can spread from person to person via respiratory droplets. When an infected person coughs or sneezes, close contacts can be infected. In addition, the virus can end up on doorknobs, elevator buttons and other surfaces. If you touch those surfaces and then touch your eyes, nose or mouth, you can become infected.
Here are five more things to remember-
Avoid close contact with people who are sick.
Avoid touching your eyes, nose and mouth.
Stay home when you are sick.
Cover your cough or sneeze with a tissue, then throw the tissue in the trash.
Clean and disinfect frequently touched objects and surfaces using a regular household cleaning spray or wipe.
3. Don't panic — start to prepare
"This is not the time to panic, but it is a time to prepare — good old fashioned preparedness planning for your family," says Katz.
Check the medicine cabinet to ensure you have basic medications such as aspirin or ibuprofen.
Think about a backup plan if schools were to close during an outbreak.
If you take a daily prescription medication, have as much of a supply on hand as possible.
Ask your employer about a work-from-home option.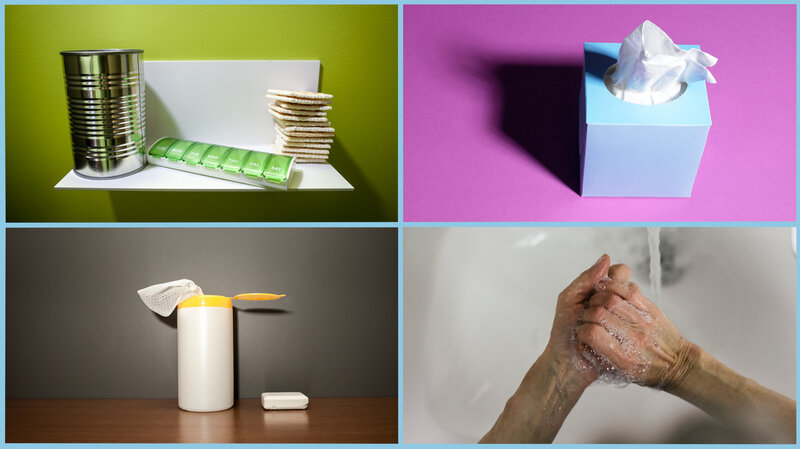 4. The uncertainty of masks to prevent illness
Overall, there's not conclusive evidence that wearing a face mask can help prevent being infected by the virus. And public health officials give mixed messages about usefulness for the general public. As we've reported, masks may not fit the face tightly, so you're still able to breathe in infected droplets. And experts worry that masks can give a false sense of security.
5. Be smart about travel
The CDC updates its travel advisory information frequently. The federal government uses a four-level scale to rank risk. Level 1 equals the lowest risk, and Level 4, the highest.