DC vs KXIP: Second IPL 2020 match, this one featuring Delhi Capitals and Kings XI Punjab – two of the three teams to have never won the tournament – in Dubai. On one side, we have the likes of Shreyas Iyer, R Ashwin, Shikhar Dhawan, Shimron Hetmyer, Sandeep Lamichhane, Rishabh Pant, Kagiso Rabada and others. On the other, KL Rahul, Mayank Agarwal, Mohammed Shami, Glenn Maxwell, Jimmy Neesham, Nicholas Pooran, and others. Shreyas Iyer and Rishabh Pant have helped DC rebuild, following a fine performance by Mohammed Shami.
Delhi Capitals beat Kings XI Punjab in the super over!
Delhi Capitals have defeated Kings XI Punjab in the super over! What an exciting match!
DC are ready for their chase in the Super Over!
The DC batsmen are ready to chase the lowest Super Over score in the IPL. The KXIP players have taken the field. Shreyas Iyer and Rishabh Pant to start proceedings for DC.
Delhi Capitals need 3 to win the Super Over!
DC need 3 runs to win the super over, with Mohammed Shami to bowl for KXIP.
WICKET! Mayank Agarwal c Shimron Hetmyer b Marcus Stoinis 89 (60)
Mayank Agarwal departs after attempting an ambitious stroke, resulting in an opportunity for Shimron Hetmyer who collects it calmly.
WICKET! Nicholas Pooran b Ravichandran Ashwin 0 (3)
Ravichandran Ashwin strikes for a duck off three deliveries, after failing to read a straighter delivery by Ashwin, with the ball going on to hit the stumps. Two wickets for Ashwin off his opening over. Glenn Maxwell the new man in.
WICKET! Karun Nair c Prithvi Shaw b Ravichandran Ashwin 1 (3)
Karun Nair departs for 1 run off 3 deliveries, as he attempts to take on spinner Ravichandran Ashwin off his first delivery after being brought into the atttack. Prithvi Shaw completes a fine catch with Nicholas Pooran the next batsman in!
WICKET! KL Rahul b Mohit Sharma 21 (19)
Kings XI Punjab (KXIP) skipper KL Rahul departs for 21 runs off 19 deliveries, following a lovely delivery by Mohit Sharma. The ball went on to hit the stumps, following an inside edge. Karun Nair is the new man in.
FOUR!
Another boundary for KL Rahul, courtesy a misfield by Kagiso Rabada at the boundary ropes.
Anrich Nortje to bowl the first over of the second innings!
South African speedster Anrich Nortje is set to bowl the first over of the second innings.
Marcus Stoinis Fifty Helps Delhi Capitals Set 158-Run Target For Kings XI Punjab.
Stoinis keeps firing in last over after batting collapse
Rabada is in at 9 for Delhi. He is at the non'striker's end and hoping he'll not need to move from there in this over. Jordan bowls the 20th over. Stoinis strides across off stump and pumps the first ball of the over for a six over cow corner. Delhi cross 130. It's Stoinis vs Jordan now!
DC 111/6 after 18
4 runs come off the 17th over. The 100 comes up for Delhi at the end of the 17th over. Chris Jordan bowls the 18th. Stoinis connects with a swing as an overpitched slower ball is smashed for a six. Stoinis gets a four with a lucky inside edge that could also have knocked his stumps over. 13 runs come off the 18th over.
Delhi Capitals In Trouble As They Lose 3 Wickets In Quick Succession.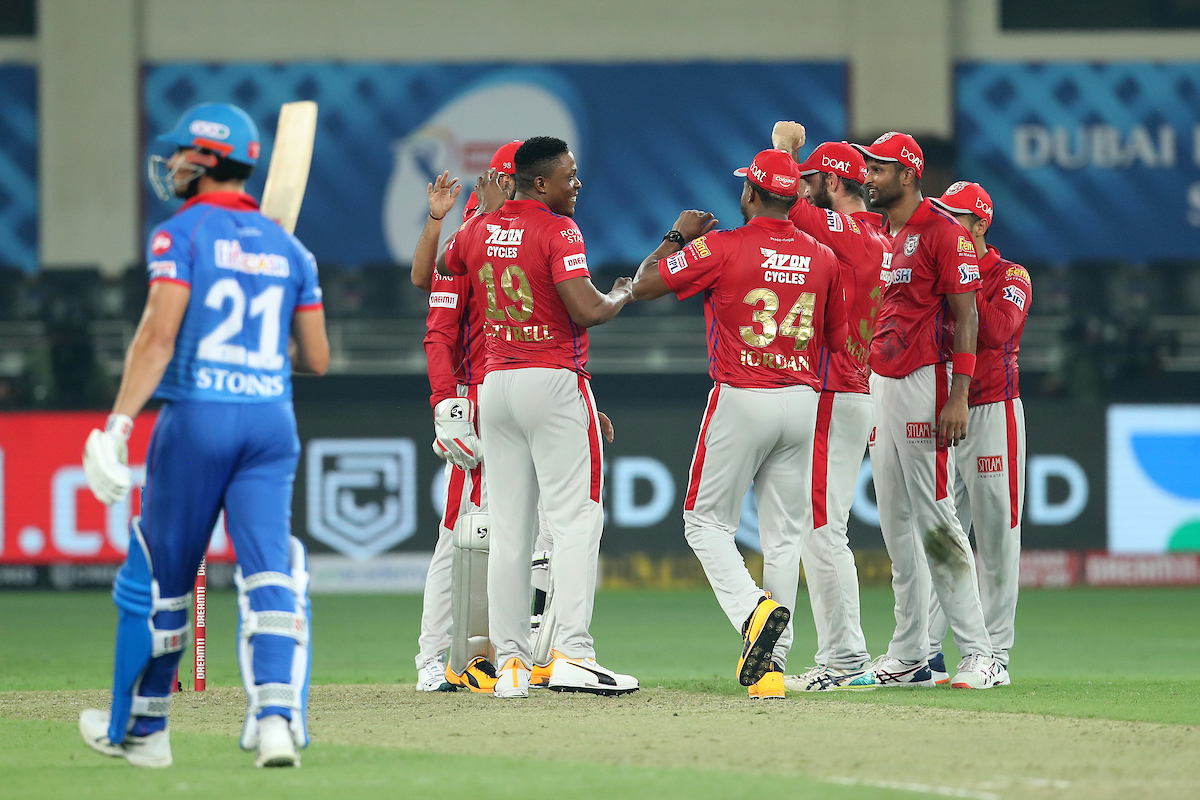 Jordan to Ashwin, 2 runs, slices it up, no power on this and it falls safely over mid-off's head.
WICKET! Shreyas Iyer c Chris Jordan b Mohammed Shami 39 (32)
DC skipper Shreyas Iyer follows Rishabh Pant back to the pavillion, as he tries to go for an aggressive hit off Shami. Iyer who looked rusty, failed to get a proper touch, resulting in an easy catch to Chris Jordan.
WICKET! Rishabh Pant b Ravi Bishnoi 31 (29)
Rishabh Pant departs for 31 runs off 29 deliveries, as Ravi Bishnoi castles him with an excellent delivery after being hit for a boundary. Pant failed to negotiate the delivery which stayed low, going on to hit the stumps.
Impressive first over by Bishnoi!
Just four runs off Ravi Bishnoi's opening over in the IPL, marking an impressive start by the youngster.