Top Things To See and Do Around India After Lockdown. That's what happens when you visit India.
The result of such an incredible variety and frequency of memorable experiences is exactly what has happened to me and countless other travelers: we simply can't get enough and constantly feel the need to return over and over again for more.
Akshardham (Delhi)
This cultural complex located near the Yamuna River is, to me, one of the most impressive structures in all of India, with its massive temple constructed from the carvings of several thousand Indian artisans. When you see it for the first time, it will blow you away with its unique appearance and seemingly otherworldly architecture — and that's before you go inside.
Kukki's Cave Paintings (Bundi)
Sign up for a trip with the local named Kukki on the outskirts of Bundi, a beautiful little town in Rajasthan. You'll hear Kukki's story on the tour, but here's a short version: he was a man with little education and no background in archaeology who ended up discovering some of India's most impressive cave paintings and ancient artifacts simply by wandering around ruined monuments and structures on his own. Some of the paintings you'll see are of hunting scenes and daily life and are believed to be 15,000 years old.
Golden Temple (Amritsar)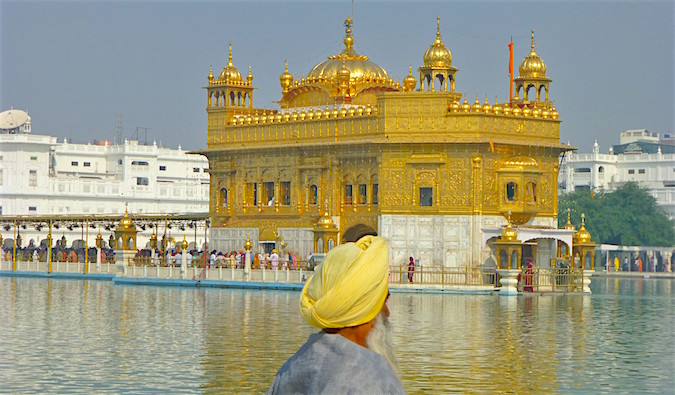 With its shimmering golden temple and an endless stream of local pilgrims to talk to, each visit will lead to a new and rewarding experience. Be sure to head over to the Langar Hall, the community dining hall where all visitors — Indian and foreigners — are welcome to enter for a simple but tasty free meal, available at almost any time. It typically feeds up to 100,000 people per day. You sit on the floor, they dish out the food, you eat, and you leave, so that another group of several hundred people can do the same shortly after.
Palolem Beach (Goa)
If you want the Indian beach experience, this is my favorite spot for that. Located in the well-known state of Goa, Palolem is very low-key, offering an affordable mix of beach huts located in a fully walkable and welcoming village setting. The whitish sands are clean and backed by towering palm trees, the bluish water is calm and perfect for swimming, and the sunset is consistently stunning as the sun dips behind jungle-filled Monkey Island at the far end of the beach each evening.