Zomato IPO: Popular food delivery platform Zomato will open its Initial Public Offering (IPO) on July 14. The much-awaited IPO, which is slated to hit the market next week, will worth Rs 9,375 crore, according to media reports.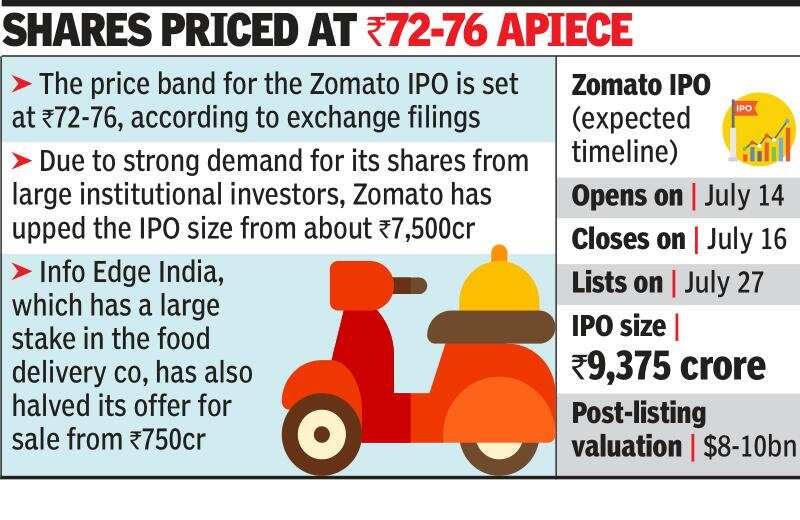 Zomato IPO Date, Price, Details
Zomato IPO will open for subscription on July 14. The subscription will close on July 16, according to an Economic Times report.
The initial public offering of Zomato will have a fresh issue of equity shares worth Rs 9,000 crore, according to a Moneycontrol report.
There will be an offer for sale by investor and shareholder Info Edge India of Rs 375 crore.
There will be 65 lakh equity shares reserved exclusively for Zomato employees, as per the Moneycontrol report.
Qualified institutional buyers (QIBs) portion will have reservation up to 75 per cent of the net issue and non-institutional investors (NIIs) will get allotment of 15 per cent of stake, ET reported.
Ahead of the Zomato IPO, key investor Info Edge had decided to lower the size of its offer for sale (OFS), according to IANS report.
The Board of Directors of Info Edge had in April approved for its participation in the offer for sale of up to such number of equity shares of Zomato, as would aggregate up to Rs 750 crore. Now, the Info Edge's OFS size in Zomato IPO is Rs 375 crore, the IANS report said.
"The revised offer for sale by the company would comprise such number of equity shares held by the company in Zomato, as would aggregate up to Rs 3,750 million, the terms and conditions of which will be specified in the red herring prospectus filed in relation to the offer, and in other offer related documents and agreements," it said, according to the IANS report.
Earlier in July, Zomato has received markets regulator Sebi's go-ahead for the IPO.
Zomato had filed preliminary IPO papers with Sebi in April. Sebi's observation is very necessary for any company to launch public issues like IPO, follow on public offer (FPO) and rights issue, according to a PTI report.
In February, the food delivery giant had raised $250 million in its pre-IPO primary fundraise, at a valuation of $5.4 billion from investors such as Kora Management, Tiger Global, Fidelity, Dragoneer and Bow Wave.